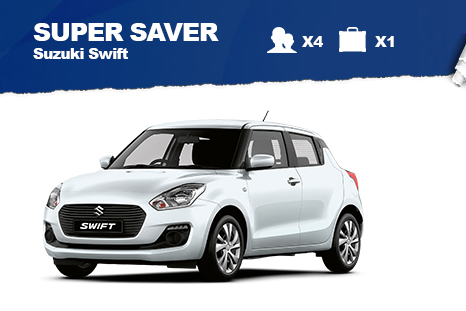 Airport pick up & drop off
To help you make most of your time, Airport pick up and drop off services are available.
*Conditions apply.
SUZUKI SWIFT
100km Offer
$38.50/day Suzuki Swift over 7 days (up to 100km).
Valid from Sept 2021. Conditions apply. Prices subject to change*
I want to say thank you for your wonderful rental service. We were very impressed by the quality of service, the quality of the rental vehicle and also the pick up and ease of renting with you. We will recommend you to anyone we know going to Adelaide. Cheers and thanks again.
Megan
Indeed respectfully grateful dealing business with your company.  Awesome service and serve its customers with high regards and professionalism in every inch, from accommodating until furnishing the keys and off to drive.  Above all, the outstanding service is looking and taking good care for the customers' welfare and needs in whatever circumstances. Keep it up please. Number one car rental and truly will recommend your business to everyone.
Respectfully grateful
Allan
I was very impressed with your service and would suggest your services to everyone I know if they need a hire car.
RAA client, Kathleen
I would just like to thank you all for the great service you provided for myself and my boys with our car hire.
It was quick, simple, easy to find the car, load up and go. I have to say, for all the times that I have been coming back home since 1992, your service has been the best.
We will be coming back to Adelaide at the beginning of March for my nephew's wedding. I am just arranging my flights, once I have this completed I will make contact with you to book a car.
I will highly recommend your business to anyone.
Again, thank you for all your help and great car.
Gail
WELCOME TO SA
Excel Network Rent a Car can assist you in planning your holiday or business trip.
Adelaide has a range of accommodation ranging from International Hotels,
to family Holiday Units, to budget Back-Packer's hostels.
Adelaide is centrally located and only a short drive from exciting tourist destinations.
The clean, white, sandy suburban beaches are perfect for a dip on a warm summer's day –
or just take a stroll and soak in the atmosphere.
Excel Network Rent a Car is a wholly South Australian owned and operated family business